Greetings Programs, It has been a while.

I think it's about time for some TR3N updates!
I have been doing some research on TRON 3 and I have discovered some things you might find interesting.
If you don't already know, the script for TRON 3 has been in development since the release of Legacy. The writer is in the process of completing the final draft at this moment. (It seems like it should be done by the end of the year.) Director Joseph Kosinski has stated the name of the third installment in the TRON franchise has already been decided. He also said there are plans of redesigning the grid. The main cast from Legacy is on board. Personally, I believe they've been working on more things than the script; they're just keeping quiet about it. The information I am about to present to you is based on possible evidence and is unconfirmed by any official sources:
On Daniel Simon's (the main designer for the vehicles in Legacy) official website, I found something very interesting. Here is a list of dates for major projects he has worked on: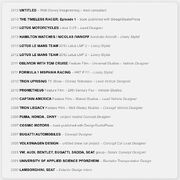 The project on the top of the list reads: 2013 UNTITLED – Walt Disney Imagineering – lead consultant. Now, what other Disney project could he be working on. If you think it's TRON: Uprising, think again, because it's already on the list. This means it's possible that he's already designing vehicles for TRON 3 (After all, he designed vehicles for both TRON: Legacy and TRON: Uprising 2 years before they were released)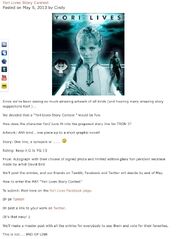 On Cindy Morgan's (Actress who portrayed Yori in the original TRON) official website, there was a contest called "Yori Lives" posted back in May. For this contest fans can create artwork or dialogue for Yori if she were in TRON 3. I think this is a way to test how much fans would want Yori to appear in the next film. It's also possible that they're getting ideas from this contest too. Recently, Bruce and Cindy promoted TRON at an event as well.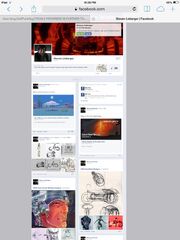 Maybe this doesn't mean anything, but I'm curious why Steven Lisberger's (Director of the original TRON) Facebook page is filled with old concept art from TRON as of this year. Why didn't he or his staff post this concept years ago? Perhaps before the release of Legacy. Maybe he's helping hype up fans for TRON 3, or maybe it's just a personal preference.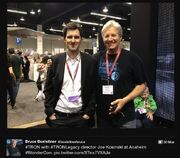 On Bruce Boxleitner's (actor who portrays Tron) official Twitter page, he posted a photo back in March. This is a picture of Joseph Kosinski and Bruce at a WonderCon event. They are both there promoting TRON. But TRON: Uprising was already over with by then. And Joseph Kosinski wasn't involved with TRON: Uprising. They must be promoting TRON 3.
Source from Wikepedia. (Also has been mentioned and/or confirmed on various websites.) Due to the evidence that director Joseph Kosinski looks like he'll have a busy future as a director/filmmaker of upcoming films as listed in the image to the left, it would seem like "the ball has already been rolled" for TR3N. This is just a thought, nothing confirmed here, so hold on for a little longer. Kosinski has already stated that TR3N is his next film (after Oblivion). I believe we'll hear something sooner rather than later...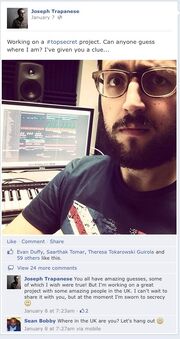 What I'm about to discuss is pure speculation, nothing is being confirmed. On Joseph Trapanese's (composer that assisted Daft Punk in TRON: Legacy and scored TRON: Uprising) Facebook page he posted a mysterious photo on January 8th, 2014. The image is a picture of him in a studio (possibly in London because of his shirt, which was where the TRON: Legacy soundtrack was recorded.) Trapanese calls this a top secret project that he's working on. People have already started speculating that this might be material for TRON, Mission Impossible, or other projects. He responded, "You all have amazing guesses, some of which I wish were true! But I'm working on a great project with some amazing people in the UK. I can't wait to share it with you, but at the moment I'm sworn to secrecy." I would be ecstatic if they already started working on the soundtrack. (CALL DAFT PUNK NOW!) I doubt Trapanese is working on TR3N, but we can be hopeful. I'll cry if the robots aren't involved...
UPDATE: In a recent interview with Joseph Trapanese about TR3N, he says,"we're doing our best to get it off the ground." The article states he is waiting for the green light from Disney and "Legacy" director Joeseph Kosinski.