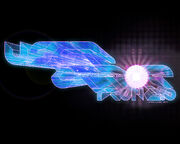 User Error is a fan-made expansion to the video game TRON 2.0.
The first version of this mod was released in 2005 by Meatsack and consisted of 5 levels.
On February 29, 2008, A second version of the mod with a newly written storyline furthering the adventures of Jeremy Powers was released by members: Mor.Evil-1, Win3K, and Zook_One of the Living Dead System Operators team and became known as User Error 2.
The first release of the second version for the mod consisted of the original 5 levels with an additional 11 new levels for a total of 16 which included :  A new opening game sequence with opening credits, Newly added cutscenes between each level, and a newly added end game sequence/credits.
User Error 1&2 are set after the events of Jet's journey through the computer world in the original TRON 2.0 single player campaign.
Plot
[
]
Jeremy Powers is an FCon employee with financial troubles. He is given an offer by a former Russian agent, Karl, who promises to get Jeremy out of financial troubles in return for a favor. This favor is to retrieve a file out of the FCon system. Jeremy steals Jet's username and password to infiltrate the server.
Contributors
[
]
Meatsack: Level Design and Original Concept
Mor.Evil-1: Level Design
Win3k: Level Design, Voices
Zook_One: New Character Models, Level Design, Voices
TronFAQ: Voices, Testing
Load "*", 8,1: Testing
Xistence: Testing

Images
[
]
External links
[
]