This article is written from a
Real World perspective.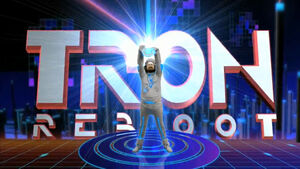 Tron Reboot is a series of short video parodies created by Ben Hansford, Daniel Thron and Michael Faradie.
Beginnings
Edit
Tron Reboot was born out of a love for TRON and features many "assists" from the Tron Wiki. Elements such as the breakout scene in the background of Episode 01 was based on the light cycle clip in the Tron wikia. Likewise all of the color correction regarding suit colors, skin-tones, glow-lines, etc., was based on stills and videos contained within this wiki.
The goal of Tron Reboot is to present small humorous parody clips, while still providing maximum homage to the original Tron feature film. The effects (both 2d and 3d) are done to the best of our abilities, given the constraints of time and budget. (80 dollars for 8 shorts.)
Plans are to release 2 more on August 4. The filmmakers are always up for new ideas and suggestions, and can be reached through their YouTube accounts.
Cast and Crew
Edit
Ben Hansford—Director / VFX
Daniel Thron—Cast: Dongle (Laser Butt) / production designer / visual futurist
Michael Faradie—Cast: Rom (Laser Bo-hunk)
Karl Denham—Director of Photography
Miso Sound—Sound design
Aaron Priest—Producer
Johnny Renzulli—Greenscreen master
Josh McHugh—3d artist—Tuesday night mafia—heart and soul