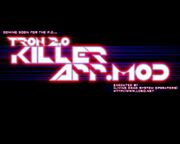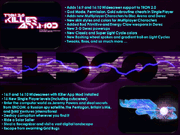 The TRON 2.0 Killer App Mod is a fan-made mod for the PC game TRON 2.0, released by Buena Vista Interactive (now known as Disney Interactive Studios) and Monolith Productions. (The Killer App Mod will not work on the Mac OSX version of TRON 2.0, or the PC demo version.) The mod was created by members of the Living Dead System Operators team and other invited members from the fan community. Headed by TronFAQ, the mod will include contributions from many individuals including Zook_One, Kain-Xavier, 9VoltChicken, Jademz, Raven, win3k, Mor.Evil-1 and Load"*",8,1.
The first Version 1.0 of the mod was released March 22nd, 2008 but was withdrawn shortly thereafter for various reasons. It was decided to work on an improved version of the mod for another release. The improved Version 1.1 mod was released April 16th, 2010. It is being treated as an Open Beta, due to the enormous number of changes made, and the need for testing by a wide audience to catch any unexpected problems that may have been introduced. At least one more version with additional improvements and possible fixes is planned to follow at a later time.
The mod is not to be confused with the Xbox or Gameboy Advance versions of the game, despite the similar name. It is only for the PC version. Though it does obviously take some inspiration and the title from those games.
Download link to Killer App Mod v1.1
According to TronFAQ, "The KILLER APP Mod is a merger of Kain-Xavier's KMX Skins Mod, Raven's Light Cycle Colors Mod, and my Orange Light Cycle Unlock Mod, but with plenty of additional enhancements."[1]
Examples of features in original v1.0 release
New Multiplayer Characters such as Sark, Thorne, the DataWraith, etc. by Zook_One
New Multiplayer Skins by Kain-Xavier, which are improved versions of the skins from his earlier KMX Skins Mod
New Rod Primitive and Energy Claw Weapons in Multiplayer Derez
New Light Cycle Colors by Raven, Kain-Xavier, and TronFAQ
Enhanced Light Cycle Trails and New Flashing Wheel Spokes
New Multiplayer map Loading Screens
New Disc Trail and Blocking Colors in Multiplayer
Examples of features in new v1.1 release
Proper Widescreen support for 16:9 and 16:10 aspect ratio displays, including corrected menus and cutscenes
Fully working Gold cheat which provides the player with all Gold level subroutines and full armor, along with maxed out player ratings
Options for permanent God mode and full permissions on every level in Single Player
Option to play the game in a Window rather than full screen
Option to disable the HUD for clean screenshots
Further fixes to level design and text errors in Single Player and Multiplayer
Cut content has been restored (Help files in Single Player)
Derez powerups are now 3-D to match their Light Cycle counterparts
Community content is available under
CC-BY-SA
unless otherwise noted.