This article is written from a
Real World perspective.
The Walt Disney Company is one of the largest media and entertainment corporations in the world. Founded on October 16, 1923, by brothers Walt and Roy Disney as an animation studio, it has become one of the biggest Hollywood studios, and owner of eleven theme parks and several television networks, including ABC and ESPN. Disney's corporate headquarters and primary production facilities are located at The Walt Disney Studios in Burbank, California.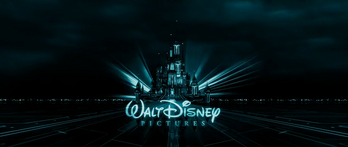 Disney produced, distributed and owns the movies, TRON and TRON: Legacy and all of the TRON-related characters and copyrights. One of its subsidiaries, Disney Interactive Studios, produced and distributed the video game TRON 2.0 and TRON: Evolution.
TRON Cross Promotions
Edit
The Walt Disney Company, operating in support of the TRON franchise, have slipped various references into their other Disney characters and products. The use of TRON-related copyrights also extends to adapting existing Disney-owned assets to increase the exposure of the TRON brand.
External Links
Edit
Disney's TRON Websites
Edit