This article is written from a
Real World perspective.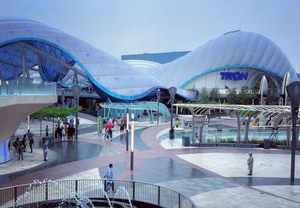 The TRON Lightcycle Power Run is a TRON-themed "motorbike style" steel roller coaster located in Shanghai Disneyland. It opened on June 16, 2016 with the rest of the park.
On July 15, 2017, during Disney's D23 Expo, it was announced that another version of the TRON Lightcycle Power Run would open at Walt Disney World's Magic Kingdom park. It is expected to be completed by 2021 (Walt Disney World's 50th Anniversary).¹
Ride Description
Edit
Guests board light cyles (roller coaster cars) and depart from the Real World through a portal, entering the Grid and beginning a "heart-pounding race for survival." Through the use "lights and 3-D graphics" and Daft Punk's score for TRON: Legacy, guests are placed into the role of "Users" who must "compete against some of the Grid's most menacing Programs".²
Refrences
Edit
Community content is available under
CC-BY-SA
unless otherwise noted.