This article is written from a
Real World perspective.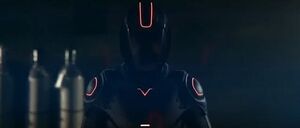 TRON: Destiny is a fan film based in the real world and borrows elements of TRON and TRON: Legacy. The 4-minute short film tells a story of two students, one of whom had constructed a digitizing laser which in turn had created a light cycle. The pair take the vehicle out for a ride and while they are gone the laser re-engages and creates a new humanoid figure, later revealed to be an updated version of Sark.
The short film is preceded by a disclaimer proclaiming no connection to the works of Steven Lisberger or Disney, and marks the piece as purely for personal enjoyment from fans of TRON.
Notes
The likeness of David Warner is used in the character reveal of Sark.
Community content is available under
CC-BY-SA
unless otherwise noted.