This article is written from a
Real World perspective.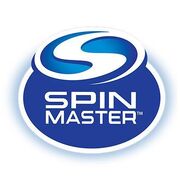 Spin Master is a Toronto-based toy company that holds the license to create action figures and other toys for Disney's TRON: Legacy. The company began in 1994 but took on the name Spin Master Toys in 1995. In addition to TRON: Legacy they also create the popular Air Hogs, Tech Deck, Bakugan, Mighty Beans, Storm Hawks and Paw Patrol toys.
TRON: Legacy Products
Edit
Core Figures: Wave One
Edit
Core Figures: Wave Two
Edit
Deluxe Figures
Edit
Ultimate Figures
Edit
Core Vehicles
Edit
Deluxe Vehicles
Edit
Identity Discs: Wave One
Edit
Identity Discs: Wave Two
Edit
Die Cast Vehicles
Edit
Target Exclusives
Edit