This article is written from a
Real World perspective.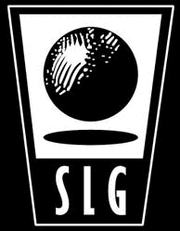 Slave Labor Graphics Publishing (or SLG) is an American comic book company founded in 1986. In 2005, SLG purchased several licenses from Disney to create comics series for Gargoyles, Alice in Wonderland, Haunted Mansion and TRON.
SLG published a six-issue series following the TRON 2.0 storyline. It was called TRON: The Ghost in the Machine. All six issues were later collected in graphic novel format.
External Links
Edit