This article is written from a
Real World perspective.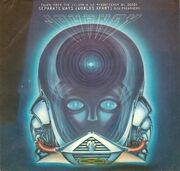 "Separate Ways (Worlds Apart)" is a song by Journey from their album Frontiers and released as a single on February 5, 1983. It peaked at #8 for six consecutive weeks on the Billboard Hot 100 chart, and spent four weeks at #1 on the Top Tracks chart.
In the film TRON: Legacy, the song can be heard when Sam Flynn enters his father's abandoned arcade. The same song can be heard in the background when Daft Punk enters Flynn's Arcade in a similar manner at the beginning of the official music video for "Derezzed".