This article is written from a
Real World perspective.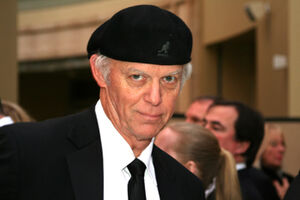 Richard Winn Taylor II is a director, production designer and special effects supervisor. He was the Visual Effects Supervisor for the movie, TRON and was responsible for organizing the effects and designing the film's graphics and costumes, as well as blending the live-action footage with the CGI animation.
Richard Taylor holds an extensive background in live action direction; production design, special effects and computer generated images for theatrical films and television commercials.
Richard began his career as an artist and holds a BFA in painting & drawing from the University of Utah. After his graduation in 1967 he co-founded Rainbow Jam, a multi-media light show and graphics company which gave concert performances in tandem with top musical groups such as The Grateful Dead, Santana, Led Zeppelin and Jethro Tull. During this period Richard began his filmmaking career and one of his first films "Integrator", based on drag racing, won numerous film festival awards.
In 1971 Richard received the prestigious Cole Porter Fellowship from USC where he earned an MFA in Print Making and Photography. In 1973, Richard joined Robert Abel and Associates, the pioneer television graphics and commercial special effects studio.
While at Abel's, Richard directed many award-winning television commercials and received four Clio awards for his work on the 7UP Bubbles "See the Light", 7UP "Uncola" and the Levi's "Trademark" commercials. During his tenure at the Abel Studio he created many of the on air graphics for ABC television and designed new theatrical logos for CBS Theatrical Films and Columbia Pictures.
Richard then supervised the design and construction of the miniatures and designed and directed special effects sequences for Paramount's' STAR TREK, THE MOTION PICTURE.
In 1978, Richard became the creative director at Information International Inc. (III) one of the original pioneers in computer graphics imaging, CGI. While at III Richard directed many of the first computer generated commercials and designed and directed the special effects for the feature film "LOOKER" which was written and directed by Michael Crichton.
In 1981 as a result of his work at III in computer simulation and his previous work at Abel & Associates, Richard became the Special Effects Director of Walt Disney's TRON, the innovative film that introduced America to the world of computer simulation. Taylor not only organized the effects for the film but he was a key designer of the films graphics and costumes.
In 1982 following TRON, Richard opened the West Coast office of Magi Synthavision, the computer animation studio that along with III generated the computer simulation scenes for Tron. One of the first commercials Richard directed at Magi, "Worm War One" won the first Clio for Computer Animation.
In 1985 Richard began directing live action and effects commercials for Lee Lacy & Associates and during a span of two years created commercials for clients such as Ford Motor Company, 7UP International, RCA and the noted Duracel toy commercials.
In 1987, Richard moved to Apogee Production Inc. where he launched the internationally acclaimed 7UP Company's "Spot" campaign. His 7UP commercial titled "Baseball" won the 1988 Clio award for Best Live Action Animation Combination and the spots "Teachers Lounge" and "Christmas" both won the Best Director category at the 1989 International Monitor Awards
From 1988 through 1992, Richard directed for Image Point Production. While there he directed for clients such as 7UP, Kellogg's, Duracel and Ford. In 1991 his Reebok commercial "Cowardly Baskets" won three Clios including Best Computer Animation.
In 1992 Richard joined with director David Dryer to form Dryer/Taylor Productions, where he continued to fortify his reputation for creativity directing campaigns for Duracel, McDonalds, Werner Bros., Kellogg's and Disney.
From 1997 through 2000 Richard directed for his long time friends at Rhythm & Hues Studios.
Currently Richard works with Beach House Films and his own company Richard Taylor Design. His recent work includes new commercial campaigns for Disney Cruise Lines, UPS, Honda, Repairnow.com, Bud Light, Intel, DreamWorks, Toyota, Dremel Tools and SAS Inc. (Statistical Analysis Systems Inc.)
Community content is available under
CC-BY-SA
unless otherwise noted.