This article is written from a
Real World perspective.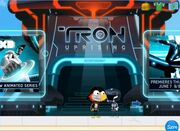 Poptropica is an online website where players can go to islands and explore new worlds. For a limited time, Poptropica had a building that served as an advertisement for TRON: Uprising. The building's design was a recognizer with two banners. Upon entering the building, players were able to select a program character and asked for help by a character who looked identical to Beck. Ads for TRON: Uprising played on a screen in the building's background. There were two different games to play inside the building: a light cycle battle and a disc arena battle. Players who beat the light cycle battle received a white light suit; the prizes for beating the disc arena battle were an identity disc and a light cycle. Also available was a light suit identical to Beck's.