This article is written from a
Real World perspective.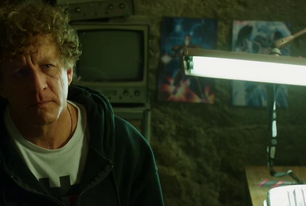 The
Marvel TRON Variant
covers are variant
MARVEL
comic covers created by Mark Brooks and Brandon Peterson in anticipation of the release of
TRON: Legacy
in 2010. The covers both celebrated the upcoming movie and highlighted the recent acquisition of Marvel by
Disney
.
Four of the variant covers -- Spider-Man, Wolverine, Thor, and Iron Man -- can be seen in the background in Roy Kleinberg|Roy Kleinberg's basement lair in TRON: The Next Day, making the variants an in-universe phenomenon as well.
The variants were announced on marvel.com on October 18, 2010:
In anticipation of Walt Disney Pictures' 3D high-tech adventure, TRON: LEGACY, in theaters on Dec. 17, 2010 -- Marvel Comics is proud to announce variant covers celebrating the film. Beginning in November, the Marvel Universe gets "TRON-ified" on selected variant covers featuring Marvel's biggest heroes -- Spider-Man, Iron Man, Captain America, Thor and more-re-interpreted out in the unique visual style of the TRON Universe.
The issues featuring TRON variants, and spotlighted characters, are as follows:
AMAZING SPIDER-MAN #651 TRON Variant, featuring Spider-Man.
AVENGERS #7 TRON Variant. featuring Spider-Woman.
AVENGERS ACADEMY #7 TRON Variant, featuring Quicksilver
CAPTAIN AMERICA #612 TRON Variant, featuring Captain America.
INCREDIBLE HULKS #618 TRON Variant, featuring Ghost Rider.
INVINCIBLE IRON MAN #33 TRON Variant, featuring Iron Man.
NEW AVENGERS #7 TRON Variant, featuring Ms. Marvel.
SECRET AVENGERS #7 TRON Variant, featuring Moon Knight.
THOR #617 TRON Variant, featuring Thor.
WOLVERINE #4 TRON Variant, featuring Wolverine.
An unprecedented one-time event bringing together the world's greatest super heroes with the hotly-anticipated blockbusters of the year, TRON: LEGACY, no pop culture fan can afford to miss Marvel's TRON Variant Covers!
Detailed credits for each book are included in the announcement.
The Spider-Man, Captain America, Ghost Rider, Ms. Marvel, and Moon Knight covers are credited to Mark Brooks, while Spider-Woman, Quicksilver, Iron Man, Thor, and Wolverine are credited to Brandon Peterson.