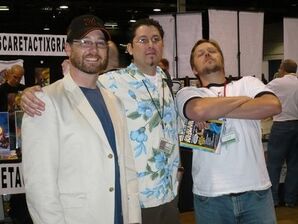 Jai Nitz (born December 23, 1975) is a full-time American comic book writer. His project includes the original graphic novel prequel to TRON: Legacy, titled TRON: Betrayal. He resides in Lawrence, KS.
Website: http://www.jainitz.com/
Bibliography
Edit
Gen-Active (2000)
Joker: Last Laugh Secret Files (2001)
Marvel Double Shot (2003)
Heaven's Devils (2003)
The Batman Strikes! (2004)
Even More Fund Comics (2004) (also was letterer)
X-Men Unlimited (2004)
Season of the Witch (2005)
Blue Beetle (2006)
The Legion of Super-Heroes In The 31st Century (2007)
Marvel Comics Presents (2007)
El Diablo (2008)
Green Hornet (2010)
The Green Hornet: Parallel Lives (2010)
Kato Origins (2010)
The Phantom Double Shot: KGB Noir (2010)
TRON: Betrayal (2010)
Bring the Thunder (2011)
External Links
Edit
Community content is available under
CC-BY-SA
unless otherwise noted.