This article is written from a
Real World perspective.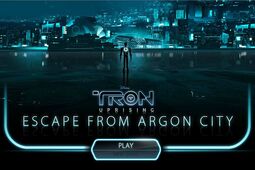 Escape From Argon City is an online game based on TRON: Uprising. It is a 2D action game on the website for Disney XD. The game presents fifteen levels where the objective is to help Beck escape from Argon City. Players face locked doors and numerous enemies and get to tackle these obstacles with an identity disc. After all the levels are completed, Beck's alternate suit is unlocked and you can play all of the levels in reverse mode.
An alternate version of the game can be played on chapter four of the Disney website's version of Beck's Beginning . This version is of Beck's mission to destroy Clu's statue.
External Links
Edit