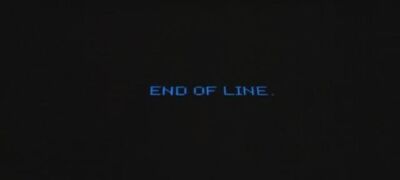 "End of Line" is a recurring phrase spoken by programs during and after Kevin Flynn's first visit to the computer world. It is similar to human phrases like "End of communication," "That's final," and "That will be all," and can also serve as a formal goodbye.
The phrase was most frequently used in TRON by the Master Control Program, both to address programs inside the computer world and to end conversations with his User, Ed Dillinger. In TRON: Legacy, the phrase was known on the Grid as one of casual farewell, and it gained popularity as the name of Castor's End of Line Club.
Movies
The MCP uses the phrase to conclude most of his conversations with programs and Users.
Sark says "End of line, program!" as his final line.
Clu bid Castor goodbye with the phrase just prior to blowing up the End of Line Club.
Track 12 on the TRON: Legacy soundtrack is titled "End of Line." In the movie, the track is played by Daft Punk as Gem leads Sam Flynn into the End of Line Club.
Games
Trivia
In computer science "End Of Line" (EOL) is a special character which signifies the end of the current line.
The phrase "End Of Line" has made its way into pop and game culture, and is often referenced there.

In the online game SMITE from Hi-Rez Studios (2014), the "Run.exe" skin for Mercury sometimes says the line while using the "Made You Look" ability.
In the video game Call of Duty: Modern Warfare 2 (2009), one of the unlockable in-game titles features this phrase on a background resembling a red program outfit.
In the reimagined Battlestar Galactica television series, the Cylon Hybrids often use this phrase when reciting system information about the Base-Ships.
In the Sega Genesis game Sub-Terrania (1994), the mission report before each level is almost always concluded with an "End of line".