Disc Opponent #1
Biographical information
Derezzed Date
2010
Status
Derezzed
Physical description
Circuitry Color
Blue
Gender
Male
Description
Standard gaming program
Other information
Functions
Gaming program
Equipment
Identity Disc
Out of universe information
Actor
Allen Jo
Appearances
TRON: Legacy

Disc Opponent #1, also known as Combatant 11, was a program consigned to the Game Arena in TRON: Legacy. He was portrayed by Allen Jo.
Biography
Edit
Facing off against relative newcomer Sam Flynn in a Disc Wars bout, this program claimed the advantage from the outset, pressing the User back and coming close to killing him. However, Sam's ability to adapt to the situation triumphed over his opponent's native skill, and the program was sent plunging to his demise through a destroyed section of floor. He separated into pieces while falling, causing his deresolution.
Sam Flynn stated that there was a 3-inch version of this program on his shelf. In the movie's opening scene, this 3" action figure can be seen in young Sam's room, throwing his disc at another model program reeling in pain. The figure strongly resembles Disc Opponent 1, and even comes with the dark battle-paint lines under its eyes.
Disc Opponent 1 was designated as "Combatant 11" by the Disc Wars announcer.
The rotating player line-up floating above the arena displays Combatant 11's name as being "Pike", although inconsistencies in the names of other competitors leave this as an unreliable designation.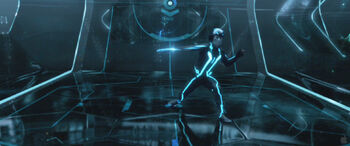 Community content is available under
CC-BY-SA
unless otherwise noted.