Jurassic World: Dominion Dominates Fandom Wikis - The Loop
Play Sound
This article is written from a
Real World perspective.
Dan Shor
Birthname
Daniel G. Shor
Gender
Male
Date of birth
November 16, 1956 (age 65)
Place of birth
New York City, New York, USA
Character(s)
Ram
Roy Kleinberg (Popcorn Co-Worker)
[Source]
Dan Shor (born November 16, 1956 in New York City, New York, USA) is an American actor who played the supporting character Ram, in the movie, TRON. He also played the minor character Roy Kleinberg in the TRON: The Next Day epilogue to TRON: Legacy, a role that was reprised from TRON in which the character was listed as "Popcorn Co-Worker". Besides being a veteran actor, he is also a director, writer and teacher with a career spanning 28 years.
Biography
[
]
Shor was born and raised in New York City. He graduated from Elisabeth Irwin High School in June 1974, and attended Northwestern University in Evanston, Illinois before returning to New York where his attentions were aimed towards the theater. He landed the lead role of Alan Strang in the first national company of Equus.
Shor's studies continued at the Davis Center for Performing Arts at the City College of New York and at the London Academy of Music and Dramatic Art in England before being cast in A Connecticut Yankee in King Arthur's Court for PBS, and then the title role in the ABC mini-series Studs Lonigan which brought him to Los Angeles.
Shor's acting credits as a leading performer include such feature films as Air Force One, Bill and Ted's Excellent Adventure (starring in another famous role as Billy the Kid), Red Rock West, John Huston's Wise Blood and, of course, Tron. Television films and mini-series include Friendly Fire, Elvis and the Colonel and The Blue and the Gray (for which Shor won a People's Choice Award). He was a series regular on the Emmy award winning Cagney and Lacey and several other television series as well as numerous guest star appearances including a Ferengi doctor on Star Trek: The Next Generation, a role he would reprise seven years later on Star Trek: Voyager. Stage appearances in Los Angeles and San Diego have garnered Shor eight Dramalogue and LA Weekly performance awards.
Shor's writing, directing and teaching careers are a natural offshoot of his acting and music careers. Since 1995, Shor has been director in residence for the Diversified Theater Company, a multi-cultural theater alliance. He wrote and directed the Ovation Award winning production of He Who Gets Slapped starring Bud Cort at the Hudson Theater, as well as productions at the LA Theater Center, Company of Angels, Court, Zephyr, Two Roads and LA Jewish theaters. His productions have been honored with more than thirty Dramalogue, Ovation and LA Weekly awards.
In addition to writing the award winning play He Who Gets Slapped, Shor's credits include two screenplays co-written with world renowned Czech film director, Jiri Weiss. Their screenplay Temptation in Prague was purchased by Meeker/Greene Productions. His latest screenplay, A View From Above (written with Denise Blasor) is making the rounds in Hollywood. Shor's work as a video writer and director is also quite extensive having worked in such videos and shows as Life On Film: Rock, Ecomaniacs, State of Liberty, Fish Out of Water and over 30 short videos for the Saipan and Guam Visitors Channels. His recent work includes Bigfoot Entertainment and Fashion TV's reality show Screen Test. He's also teaching the craft of acting at the International Academy of Film and Television in Cebu, Philippines.
Filmography
[
]
As a director:
State Of Liberty (2007) TV
Journeys (2003) TV
As an actor: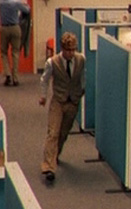 The X Files (2002) TV
Judging Amy (2000) TV
Night Train (1999)
Air Force One (1997)
Star Trek: Voyager (1996) TV
Ghoulies III: Ghoulies Go to College (1993)
Doppelganger (1993)
Elvis and the Colonel: The Untold Story (1993) TV
Red Rock West (1992)
Solar Crisis (1990)
Star Trek: The Next Generation (1989) TV
Thirtysomething (1989) TV
Beauty and the Beast (1989)
Bill & Ted's Excellent Adventure (1989)
Murder, She Wrote (1988) TV
Daddy's Boys (1988)
Black Moon Rising (1986)
Mesmerized (1986)
Cagney & Lacey (1982) TV
Mike's Murder (1984)
My Mother's Secret Life (1984)
Talk to Me (1984)
This Girl for Hire (1983)
Strangers Kiss (1983)
Strange Invaders (1983)
The Blue and the Gray (1982)
TRON (1982)
Strange Behavior (1981)
Back Roads (1981)
A Rumor of War (1980)
The Boy Who Drank Too Much (1980) TV
If Things Were Different (1980)
Wise Blood (1979)
Friendly Fire (1979)
Studs Lonigan (1979) TV
A Connecticut Yankee in King Arthur's Court (1978) TV